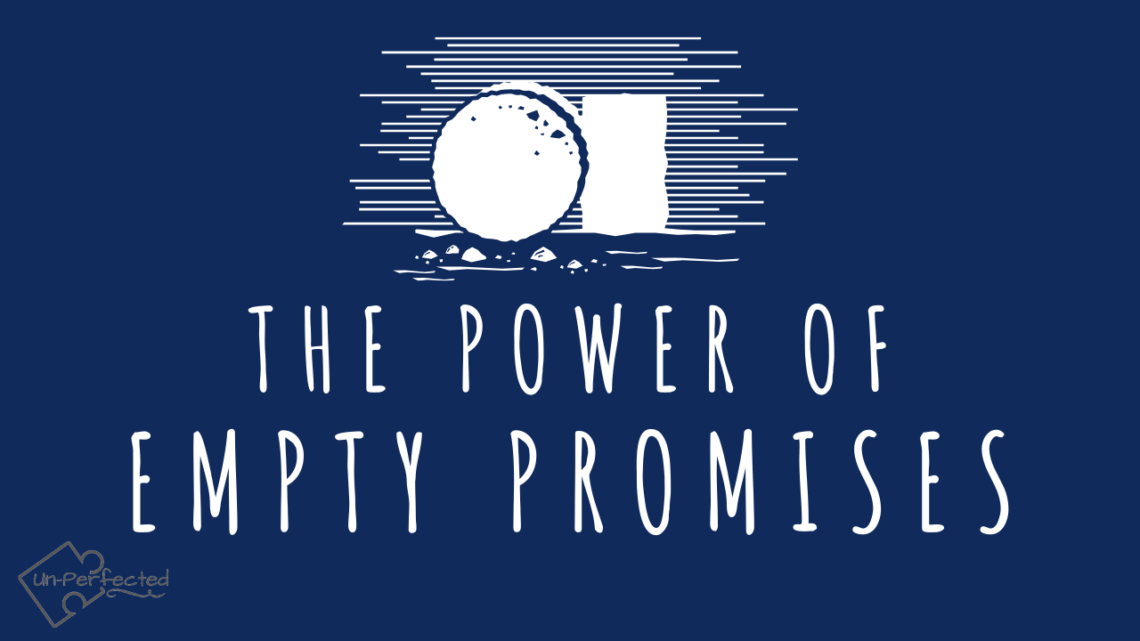 The Power of Empty Promises
Have you ever watch one of those YouTube videos about a new toy, video game or tech and been disappointed after finally getting it because all those promises didn't seem to pan out? Or maybe it just wasn't as good as the person on YouTube made them out to be? No? Okay, how about this. Have you ever promised to do something (like be nice to a brother or sister or even that kid you think is weird) when you never intended to follow through? Did I get you there? Well that my friend is an empty promise. Empty promises are not good things for obvious reasons. They hurt feelings, they cause distrust, and they lead nowhere.
But what if an empty promise was a good thing? What if I told you that God made some pretty amazing empty promises and of course we know that God is good all of the time and all of the time God is…. Good right?
Today we're going to read through a very well known story in the Bible. Of course we all know what story it is because of the very special day that we celebrate this week. This Sunday is Easter or Resurrection Sunday, or what I like to call it, "Shut yo' mouth devil, cuz we won, Sunday!" Okay, that's a long title, but it does have a certain je ne sais quoi. I don't remember what that means but it sounds fancy to say. Anyways, back to this incredible story and the empty promises.
We're going to be bouncing around the Gospels and even in the old testament in this episode, so make sure you grab a parent to help you find the verses or you can just follow along and look at them with your parents later. Go a head and grab your Bible and turn to the book of Isaiah, chapter 7.
A Promise of an Empty Womb
In Isaiah 7:14 (KJV), we read "14 Therefore the Lord himself will give you a sign. Behold, the virgin shall conceive and bear a son, and shall call his name Immanuel." God is promising to use an empty womb to save his people. And in Luke 1: 30-33 (ESV), we read about the fulfillment of that promise. Turn there and read with me.
The scripture says, "30 And the angel said to her, "Do not be afraid, Mary, for you have found favor with God. 31 And behold, you will conceive in your womb and bear a son, and you shall call his name Jesus. 32 He will be great and will be called the Son of the Most High. And the Lord God will give to him the throne of his father David, 33 and he will reign over the house of Jacob forever, and of his kingdom, there will be no end."
I know we all focus on Jesus' crucifixion, death and resurrection during this time, but I wanted to point out that the Easter story started far before those 3 days. In fact, Jesus' victory is prophesied all the way back in Genesis. Don't believe me? Check out Genesis chapter 3, verse 15 when you have time with your parents later. You'll see what I mean. Okay, back to those empty promises.
The Promise of an Empty Throne
Do you know what a throne is? It's like the big fancy seat that a King sets in. If we look at John 1:1- 3 and verse 14 (ESV), we see that Jesus has always been. He has never not existed. (I know that is a double negative for all of my grammar nerds, but you get what I am saying). Go ahead and turn there and let's read it.
It says, "1 In the beginning was the Word, and the Word was with God, and the Word was God. 2 He was with God in the beginning." Then if we go down to verse 14, we see that Jesus is the Word. Fourteen says, "The Word became flesh and made his dwelling among us. We have seen his glory, the glory of the one and only Son, who came from the Father, full of grace and truth."
So if Jesus was with God at the beginning, he was already at God's right hand, right? He was already our King. So he already had a throne. If so then, when he came here as fully man, fully God, he left that throne empty to fulfill God's plan.
Alright, that's two empty promises down and we haven't even gotten to the cross yet! I promise, I'm getting there… but not yet.
The Promise of an Empty Mat
If we read the story of the man at Bethesda in the book of John. (John 5: 1-15) The scripture tells us about Jesus healing a man who had been laying on this mat for 38 years. (That's like my entire life!) Jesus walks up to this guy and heals him in a moment, with a word. That empty mat is our promise for healing one day. Complete restoration of what we have lost when we get to Heaven. So whatever we go through here, we know that one day, Jesus will tell us to "get up and do the thing" because we are made whole again! Hey, I wonder if I will finally be able to do a back flip? Hum…. Oh sorry, I'm getting off track. It is just so fun to imagine what it will be like to be with Jesus and God one day. Isn't it?
Okay, back to the promises.
We are finally to the cross! See, I told you I'd get there. Go ahead and turn to Matthew 20: 17 – 19 (ESV). We will see two empty promises mentioned in this passage. Go ahead and read with me this time. The scripture says "17 And as Jesus was going up to Jerusalem, he took the twelve disciples aside, and on the way he said to them, 18 "See, we are going up to Jerusalem. And the Son of Man will be delivered over to the chief priests and scribes, and they will condemn him to death 19 and deliver him over to the Gentiles to be mocked and flogged and crucified, and he will be raised on the third day."
Did you catch that? The promise of an empty cross and an empty tomb! Let's dive into those for a moment.
The Promise of the Empty Cross
First, when Jesus died on that cross and was removed from it, he left that empty cross. But that empty cross is so much more than wood. It is a reminder that God promised his son as a sacrifice for our sins! That empty promise means our salvation!
The Promise of the Empty Tomb
But then, Jesus didn't stop there with his beautiful gift for us. He also promised an empty tomb. He defeated sin, death, and the grave for us! Do me a favor and turn to Isaiah 25: 7-8. (WEB) It says "He will destroy in this mountain the surface of the covering that covers all peoples, and the veil that is spread over all nations. He has swallowed up death forever!' Now turn to Psalm 16:10 (KJV). In this scripture, David writes, "For thou wilt not leave my soul in hell (among the spiritually dead); neither wilt thou suffer thine Holy One to see corruption."
God not only promised us that Jesus would leave an empty grave, but we will as well! The empty promises mean eternal life! Now there is a reason to celebrate  "Shut yo' mouth devil, cuz we won, Sunday!" Ah, still too long? Okay, we'll stick with Resurrection Sunday. It's short, sweet, and gives the important part of the story, God's Not Dead!