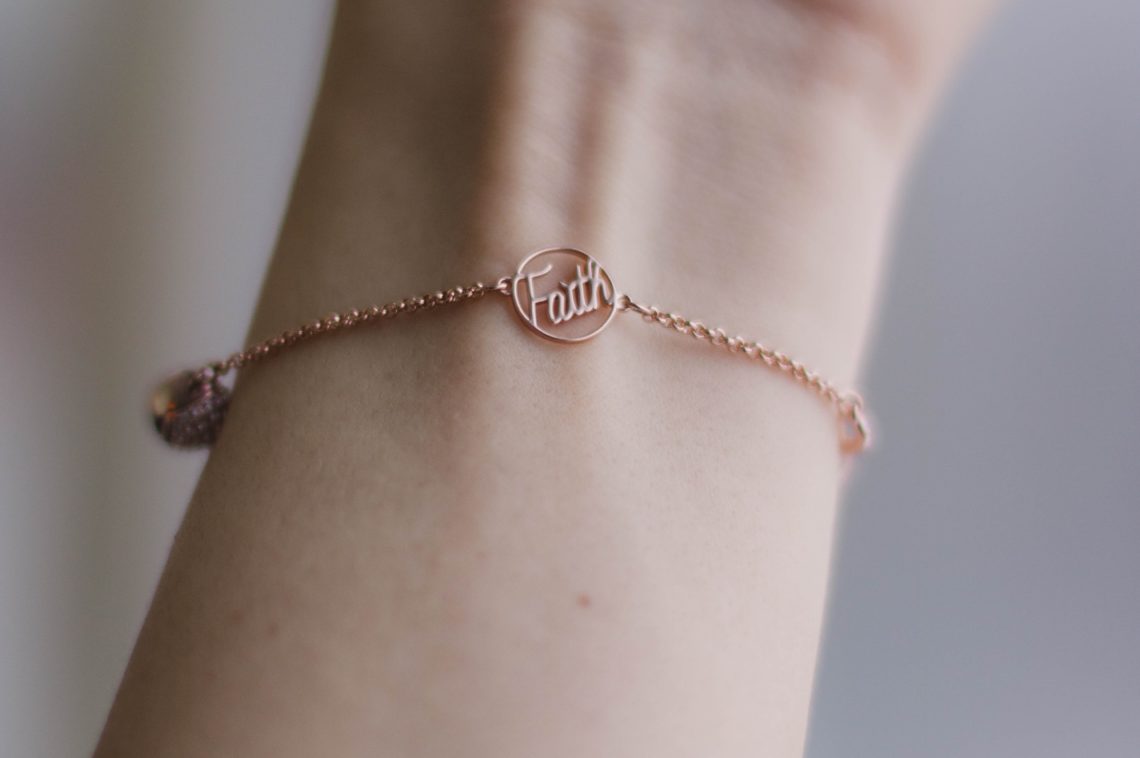 I Just Don't Have Enough Faith
My husband used to say "I just don't have enough faith" when something hard would arise. Moreover, he'd say that I had more faith than him. He said that he just didn't have enough faith when he didn't see how something could work out. I used to get upset at this. I just didn't understand why it was so hard for him to have faith and so easy for me.
I guess it was because I kind of always thought that faith was something you could just work on. You had to "build" it like a muscle. It was something that came from within you and you just had to grow it. Kind of like knowledge. The more you learned, the more knowledge you had. The more you practiced having faith, the more faith you would have. Makes sense right?
Well, I wasn't exactly right.
What is Faith?
A few years ago I spent the better part of a year studying Hebrews 11. If you are not familiar with it, it is also known as the "faith chapter" or "the hall of fame of faith". Does that give you an idea of what this particular chapter contains?
Anyway, this chapter is where we find the definition of "faith". Hebrews 11:1 KJV says "Now faith is the substance of things hoped for, the evidence of things not seen." I think most of us grasp that concept. We have faith in gravity, the air around us, and the atoms within us. But this really isn't faith. Let me explain.
Yes, we physically cannot see these things, but science has proven their existence. It is now rational to believe that these things exist because we can produce man-made gravity and oxygen and we can see the interaction of electrons with an atom (even though we cannot see the atom itself).
So now back to by original question, what is faith? Faith is believing and ACTING on that belief without any proof. Not just that you cannot see something, but that there's no scientific backing to what you are believing in.
Now, let me make this clear, I know that God exists and I can see his handy work all around us. But science tells us the what behind these things and not the who.
Where Does Faith Come From?
Disclaimer: There are several scriptures that I want to point out in this article, but these are by far not the only ones that point to what I am about to tell you.
My husband may have been right… okay, he was right (but don't tell him that). When we first were married, I did have more faith than him. A few years ago, I had more faith than him. And why was that? Because that is how much faith God had given him and me. Yes, faith is given to each of his children in the level God sees fit at that time. So, the fact that I had more faith, was a reality (for that moment).
Paul is by far one of my favorite writers of all time. In Romans 12:3, he proves my point.
3 For I say, through the grace that was given me, to every man who is among you, not to think of himself more highly than he ought to think; but to think reasonably, as God has apportioned to each person a measure of faith.

Romans 12:3
Paul continues in Ephesians 2:8;
8 for by grace you have been saved through faith, and that not of yourselves; it is the gift of God,

Ephesians 2:8
What my husband and I didn't realize all of the years ago was that my husband didn't have the knowledge to put a lot of faith into action. He could have been dangerous with a ton of faith and no knowledge of God's word to back it up. He would have taken chances that maybe God didn't want him to. He would have possibly steered people in the wrong direction with his faith and lack of biblical knowledge. But God had given him a seed of faith as a gift.
I love that God gives us faith as a gift… not something we can produce on our own. If we could create faith on our own, we could boast how faithful we are. And that isn't what God intended. He gives each of his children his spirit and by that spirit, we are given the ability to have faith. Which brings me to my next scripture.
Spiritual Gift
In 1 Corinthians 12:9, we are shown that faith is a spiritual gift as well. Those with this gifting are the ones that speak boldly, jump on planes to travel halfway across the world to speak to tribes in Africa, or quit their [good] jobs to build the ministry or business God has given them. Billy Graham had this spiritual gift.
5 There are various kinds of service and the same Lord. 6 There are various kinds of workings, but the same God, who works all things in all. 7 But to each one is given the manifestation of the Spirit for the profit of all. 8 For to one is given through the Spirit the word of wisdom, and to another the word of knowledge, according to the same Spirit; 9 to another faith, by the same Spirit; and to another, gifts of healings, by the same Spirit;

1 Corinthians 12:5-9
Growing Your Faith
I know I said that faith is a gift and not something you can create on your own, but you can grow your faith with God's help. This is something that my husband has learned over the years and now he sometimes has more faith in a situation than I even do. So how do you grow your faith?
1. Read God's Word (Romans 10:17)
There is power that comes from reading and knowing God's word. Personally, I do this in the morning. I find it helpful to have a fresh dose of God's word before I start my day. I then use it when challenges occur during the day. It reminds me of how to react to hurtful words or the inconsiderate actions of others.
So then faith cometh by hearing, and hearing by the word of God.

Romans 10:17 KJV
2. Pray Continuously (1 Thessalonians 5:16-18)
Praying is a conversation with God. It is one of the ways you learn his voice and by learning his voice, you can have more faith in when you hear (or feel) him prompting you.
16 Rejoice evermore. 17 Pray without ceasing. 18 In everything give thanks: for this is the will of God in Christ Jesus concerning you.

1 Thessalonians 5:16-18 ESV
3. Ask God for Help (James 1:5 and Mark 9:24)
This one goes hand in hand with #2. You might think this is "cheating", but asking God for help growing your faith is allowed! He wants us to ask him for help, in every area of our lives. James 1:5 tells us:
If any of you lacks wisdom, let him ask God, who gives generously to all without reproach, and it will be given him.

James 1:5 ESV
We see examples of this in the Bible over and over again.
The apostles said to the Lord, "Increase our faith!"

Luke 17:5
Immediately the father of the child cried out[a] and said, "I believe; help my unbelief!"

Mark 9:24 ESV
4. Know You Don't Have to Be Perfect
Okay, this one isn't really a "step" for growing your faith, but it's important. If we think we have to be perfect to have faith or we need to have perfect faith, we'll never grow our faith like God wants us to. We will simply give up because of the unobtainable bar that we've set. But God never said you had to be perfect or that you could not have moments of doubt. He knows us and our brains. We have not been perfect since sin entered the picture.
With that being said, we need to strive for perfection, meaning the one who is perfection, Jesus Christ. We need to strive to walk closely with him each day and learn how he would handle situations. God wants us to be perfected through Jesus, not be perfect to come to him.
Examples of the Un-Perfected
John the Baptist – He questioned Jesus' true identity
Peter – He denied Jesus and doubted his power
Moses – He questioned God's ability to use him.
Abraham and Sarah – They questioned God's ability to give them a child (and took it in their own hands).
Elijah – He doubted God's ability to save him from his wife.
Thomas – There's a reason we say "doubting Thomas".
Gideon – Questioned God's ability to use the "weakest man from the weakest tribe".
David – He wavered in his faith (multiple times).
Jonah – Remember the big fish?
I could go on and on. The Bible is full of imperfect people that God used (through their faith, however small) to do amazing things. And God can (and will) use you if you just give him the small amount of faith you have. That is what God is doing through my husband. I have watched his faith blossom from a small seed to a large oak and I cannot wait to see what else God will accomplish through him.
This Week's Challenge
This week's challenge is all about growing your faith. During the next week, your challenge is to share your faith with one other person. This could be your best friend, your neighbor, or the guy behind you in the line at the coffee shop. This could be as simple as saying God bless you or paying for the next person's order and leaving a note that Jesus loves them. This could be walking up to someone you know and telling them that they are special because God made them.
Just share your faith with someone and see how God builds you up. There's power in speaking truth and blessings for those who are bold enough to do it. Are you up for this week's challenge?
---
Do you know someone who is struggling with their faith? Share this article with them or check out our podcast on your favorite podcast app.